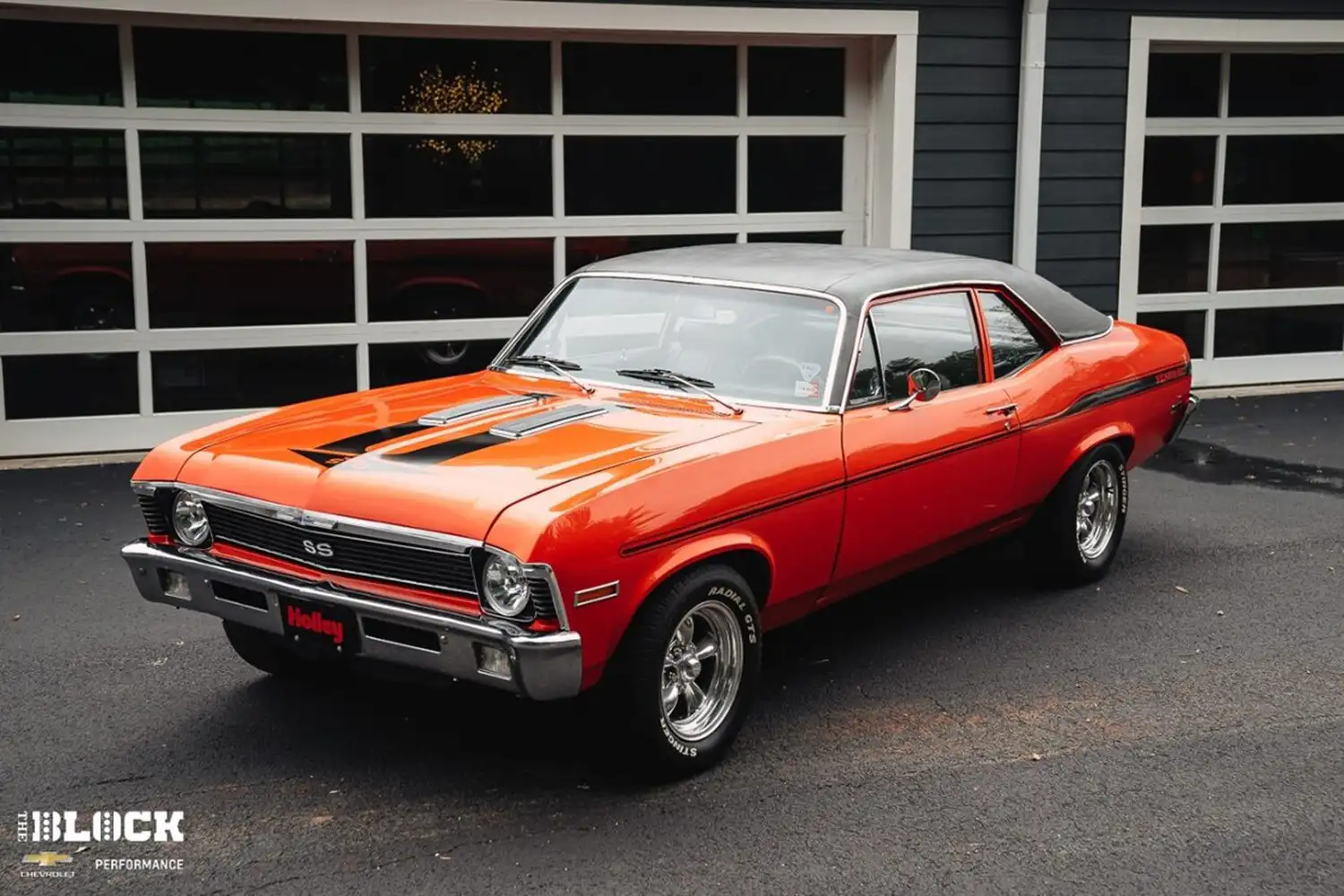 Author: DAN HODGDON
Photos: LUCAS PRIAMO
Source:Chevrolet
——
Dan Traeger and his son, Andy, are lifelong Chevrolet enthusiasts with their fandom coming naturally; they have helmed General Motors dealerships for decades. The close-knit father-son duo are also neighbors in Bloomington, Illinois, and have worked on a variety of projects in tandem. Their latest is an LS-swapped, Hugger Orange 1970 Nova.
The affinity for the Nova has been in the family for generations. Dan Traeger owned an orange 1973 Super Sport model that he bought new to drive back and forth to college.
"That's where my love for Novas kind of came from," Andy Traeger said during this past fall's Holley LS Fest East event, taking place at Beech Bend Park in Bowling Green, Kentucky. "In 2018, I found a [1970 Nova] on Facebook Marketplace up in Ottawa, Illinois, and it was red with a black vinyl top.
"I didn't tell Dad about it, I ended up taking a trailer and went up there and met the guy and talked to him and his grandson about the car. It had been in their family their whole life and they were ready to part with it."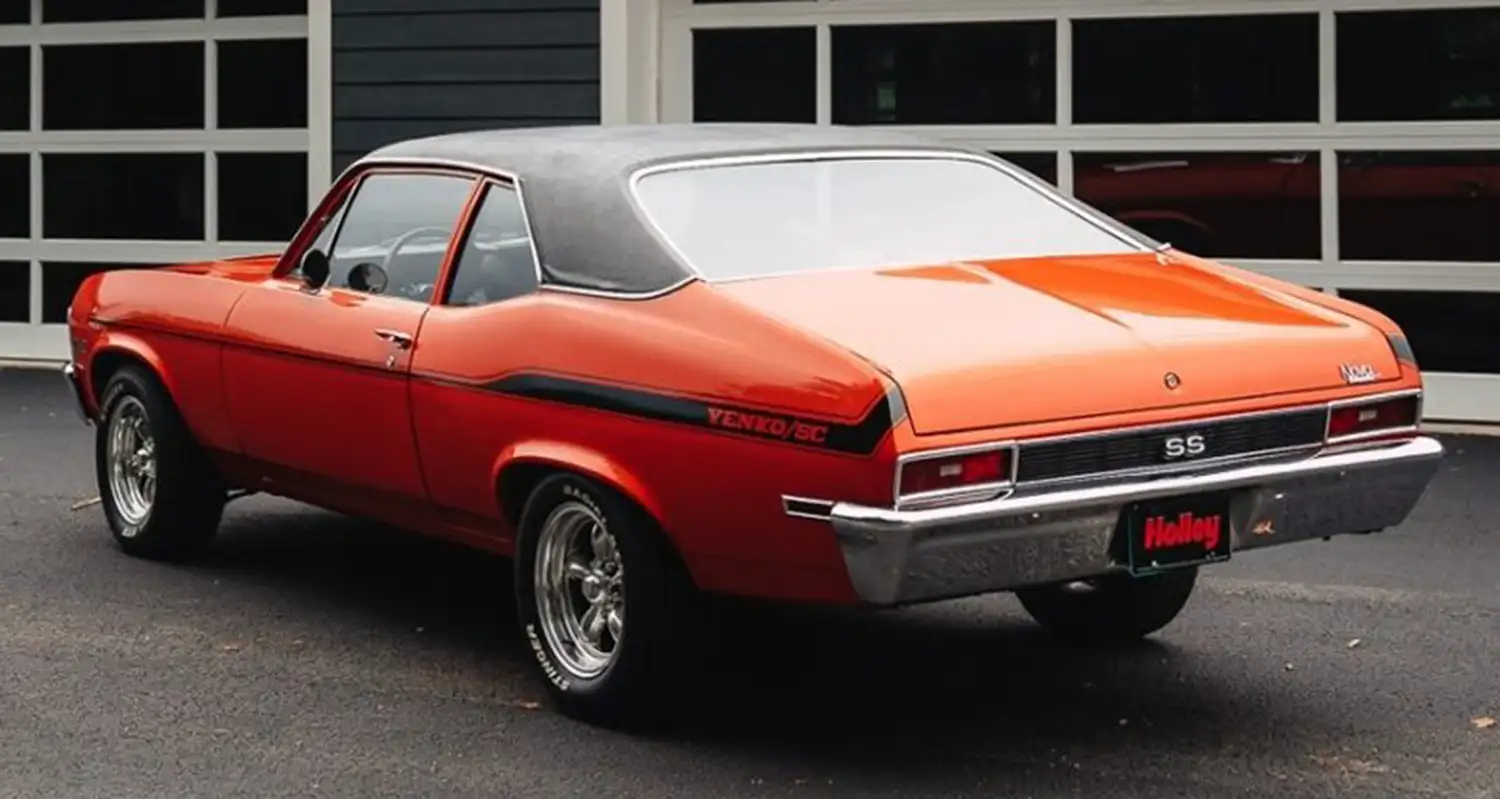 Dan Traeger owns Barker Motor Company, comprised of Barker Chevrolet in Lexington, Illinois, and Barker Buick GMC Cadillac in Bloomington. Andy Traeger currently serves as general manager at the Bloomington store while his brother-in-law, Jake, runs the dealership in Lexington.
Andy ultimately bought the Nova and parked it behind the Chevrolet store, only to see his father enter the lot, make a lap, and spot the famed Bowtie vehicle from the muscle-car era.
The car originally featured a 307 cu.-in. engine and the Traegers first looked to install a Big-Block paired with a four-speed manual transmission. But after doing extensive research, they decided to take the LS route and take advantage of the power plant's more modern performance capabilities.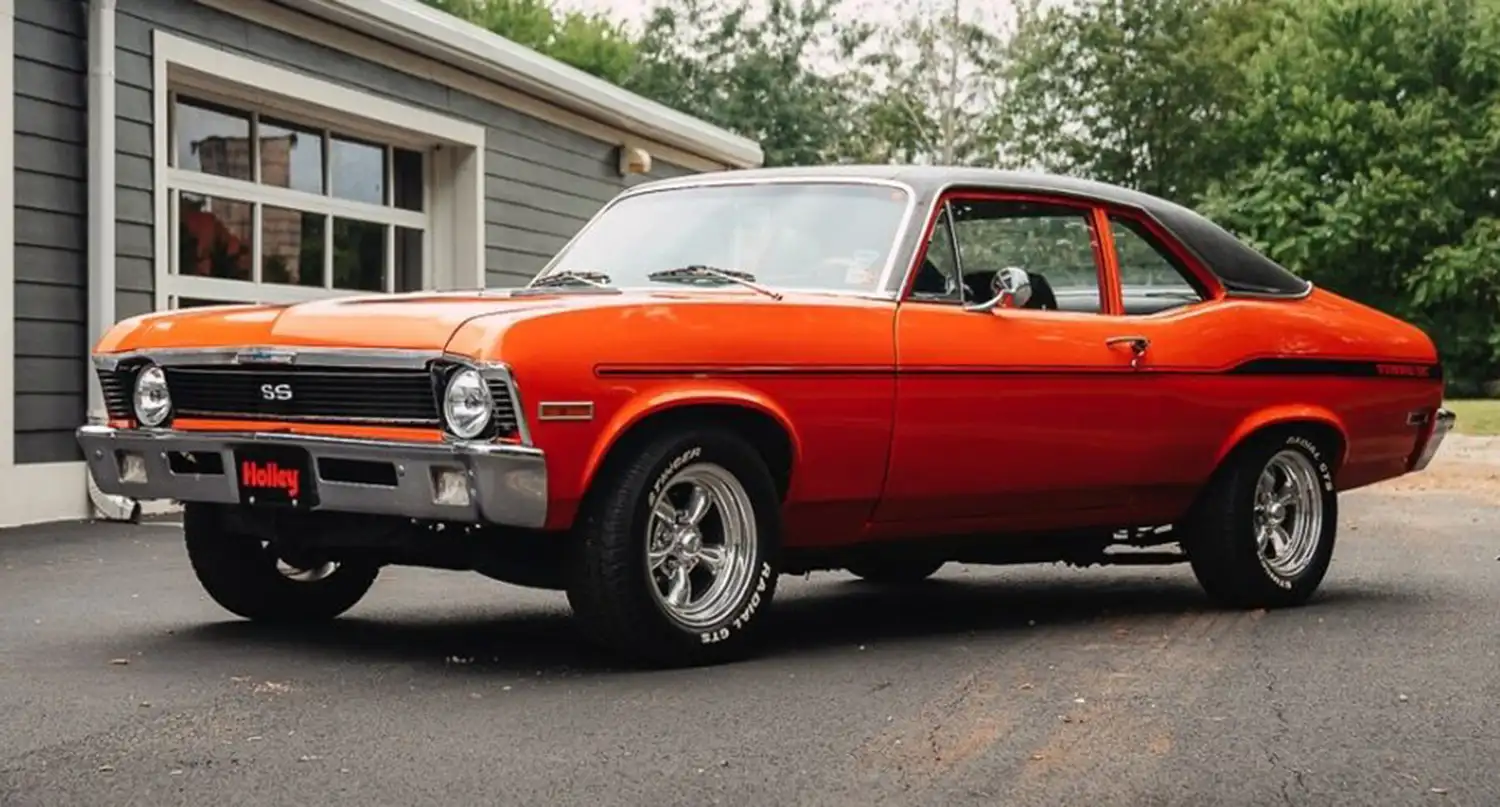 Eventually, someone traded an LS6-powered 2004 Cadillac CTS-V into the dealership and Andy Traeger bought the car. Soon, he and his father went to work installing the engine in the Nova. They added aftermarket long-tube headers, a cold-air intake and an oil pan, but much of the powertrain was a direct swap.
Dan Traeger is an old-school fan of carburetors, but the project converted him to many of the benefits of the LS platform.
"This thing's a fuel-injected car, you hit the key and it just fires up," he said. "The computer just makes the car run right … It's reliable."
The transmission is a T56 six-speed manual from the 2004 CTS-V and is paired with a new Tick Performance single-disc clutch. The Traegers added a new crossmember as well. Plus, since the donor Cadillac's rear end was in bad shape, they also installed a new Moser 12-bolt GM rear end with Wilwood brakes.
The car still sits on the original subframe, however, and the plan at first was to utilize a set of aftermarket subframe connectors to stiffen the frame. But when the Traegers didn't like the way they fit, Dan simply got out his welder and made better ones. That's just one example of many tricks he used in building the car after a lifetime spent in the automotive industry.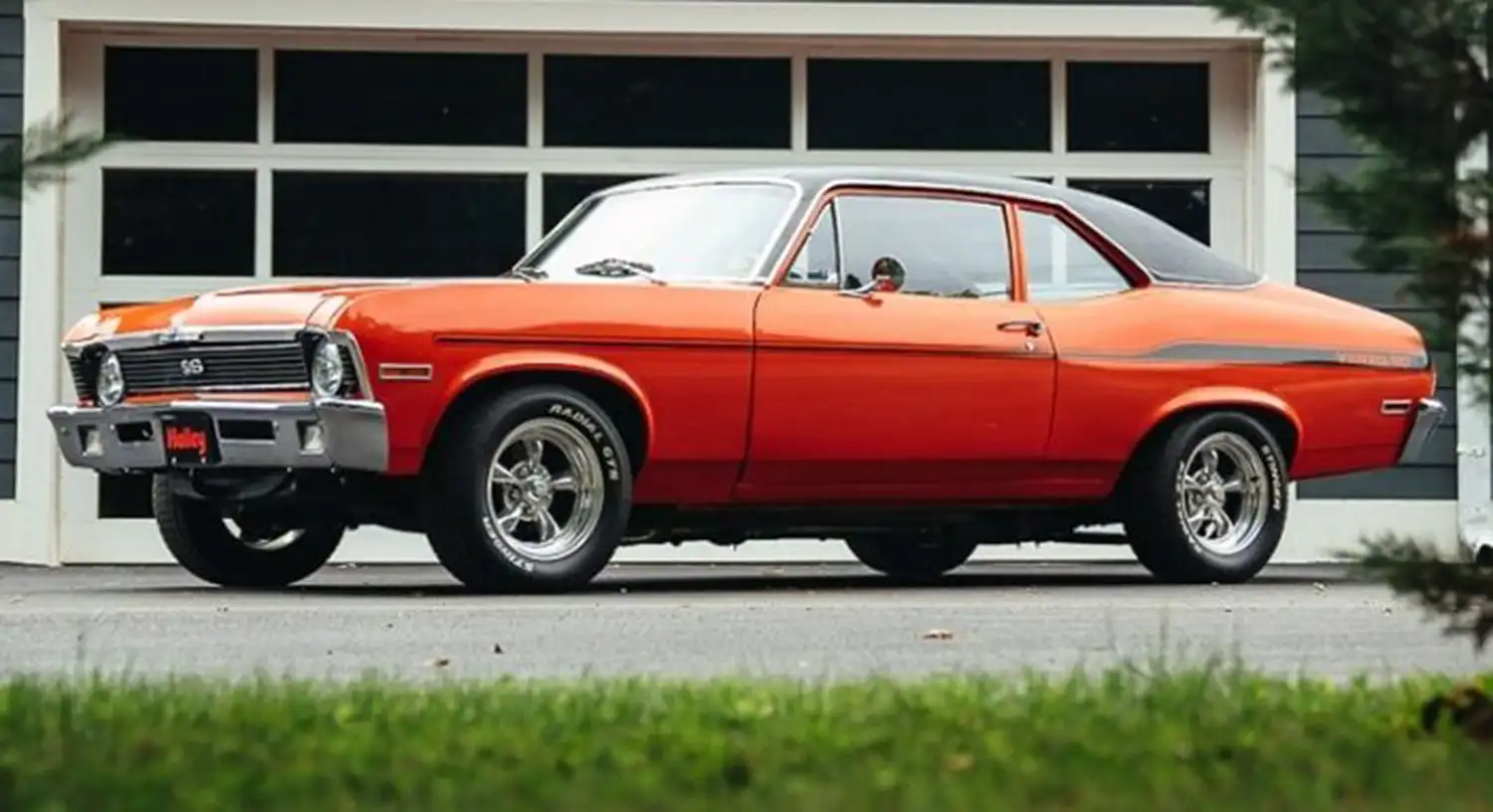 Among the others was building traction bars utilizing three-point hitch links from Tractor Supply Company designed for a farm tractor. They keep the car planted and prevent wheel hop upon acceleration. Multi-leaf springs along with air shocks in the back allow the ride adjustments when necessary or wanted.
"I wanted that car to look like you drove by a high school parking lot in 1975," Andy Traeger said. "I knew that [Dad] likes the old-school hot rod look, and I do too, and I knew we'd have fun building a car that way."
The wheels and tires are vintage-style as well. The Nova rides on 15-inch American Racing Torq Thrust wheels off a Camaro, along with white-letter Dean Stinger Radial GTS tires. The wheels and tires were given to Andy Traeger by a lifelong family friend, Tim Johnson.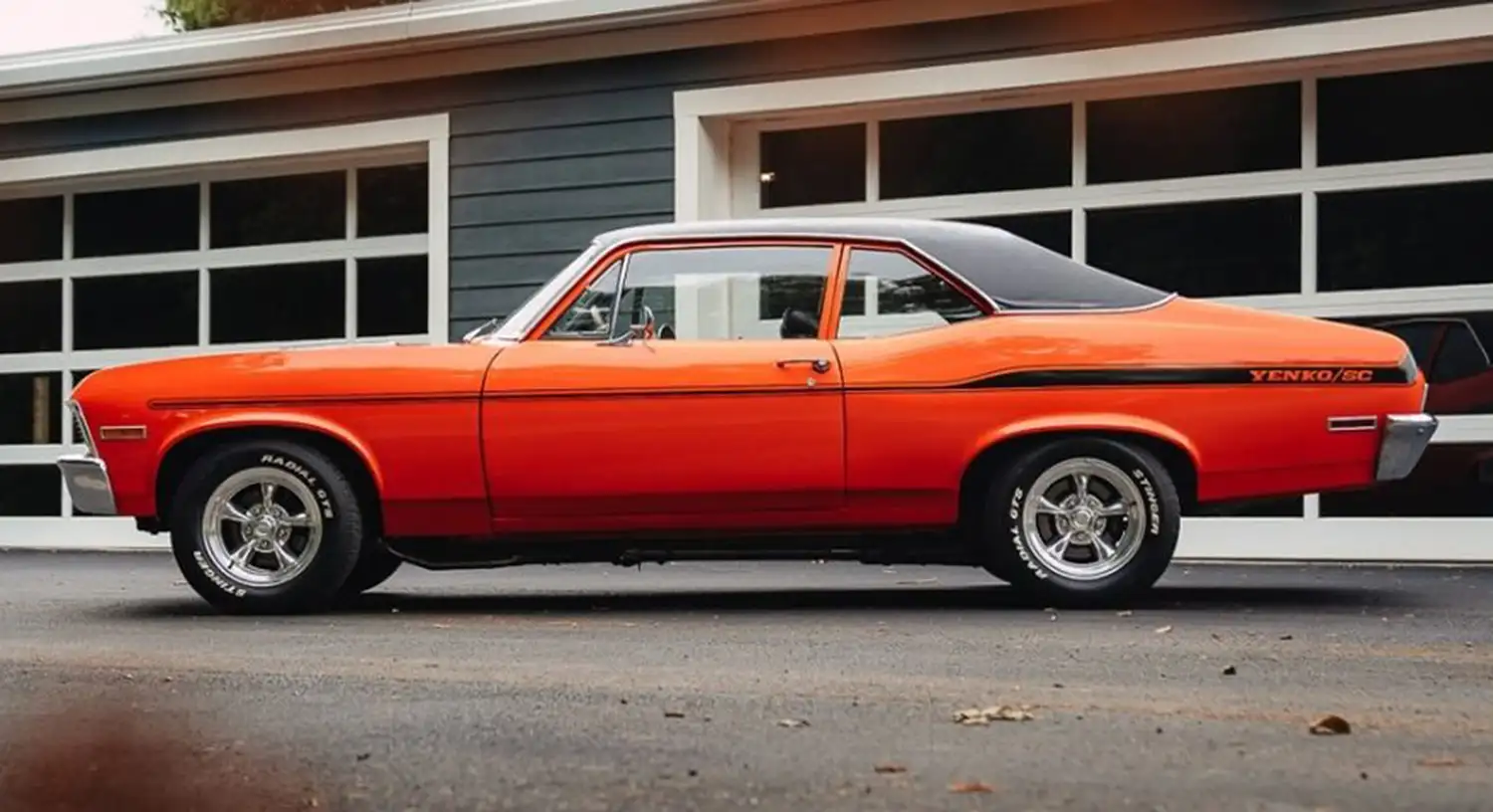 "I don't know if that [tire style] is cool anymore or not," Dan Traeger joked.
But while the car utilizes a variety of original and classic components, the Traegers also incorporated elements like new brake and fuel lines, along with ACDelco replacement parts to bring the vehicle up to today's standards.
Perhaps most impressive, they spent untold man-hours fabricating sheet metal and fine-tuning every area of the car while also maintaining the true muscle car vibe.
"The decklid and the roof were vintage, but the quarters, floors, fenders, and hood are all fresh stuff," Dan Traeger said.
Andy Traeger gives a great deal of credit to his father for his ingenuity and work ethic on the build.
"I owe a lot to Dad here, he did a lot of wrench time on it," he said. "We are not body guys by any means, but we had that on a rotisserie, we had it on it for a long time doing bodywork. Shout out to Kurt's Autobody, they did the filler work and also the paintwork. But really everything else was [Dad] and I in the garage at home. It was a lot of fun."
Kurt's Autobody in Bloomington painted the car in the famed Hugger Orange from Chevrolet and nearby Central Image Wraps installed a black 1969 Yenko stripe kit. When Andy Traeger bought the car it had more chrome around the windows and doors, but he and his father instead decided to go with the more simple orange broken up with the black stripes.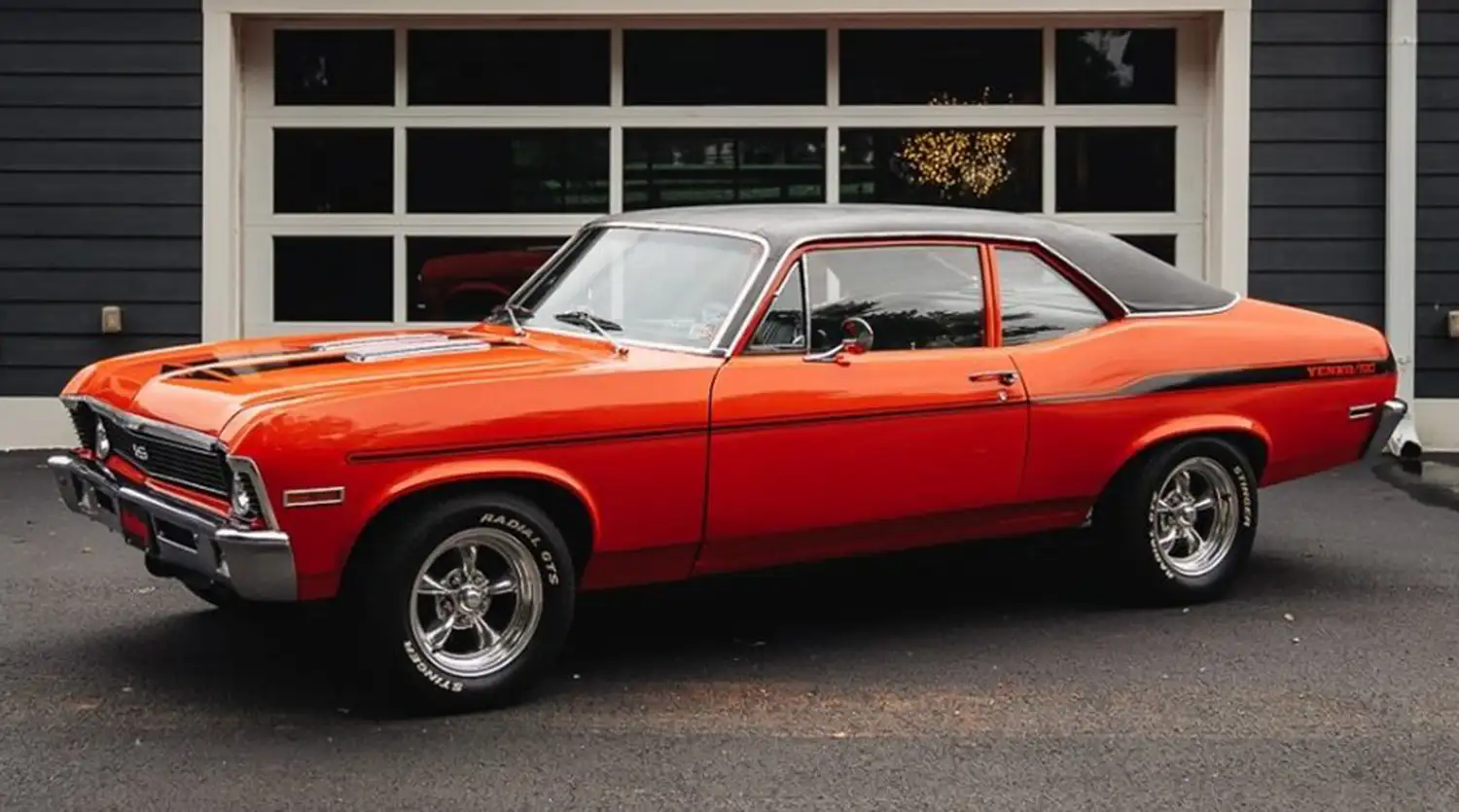 The car also incorporates various pieces of history, including hood louvers Dan Traeger had saved for decades.
"When I was in high school I worked at a gas station and we had wreckers," he said. "A guy rolled a '69 Big-Block car. I remember sitting behind the gas station waiting for the insurance people and they totaled it. I went back and took those louvers off of the car and I had them over the garage for like 45 years."
The interior remains mostly stock, although making the modern transmission fit required some cutting of the transmission tunnel and a newly fabricated trans cover. However, that is all out of sight under the carpet. The rest of the black interior remains much as it would have appeared in 1970, save for updated seat covers, some new gauge lenses and Apple CarPlay. Dan Traeger was even able to repair the original cracked dash panel through a plastic welding process.
Even though the father-son team has built multiple cars together, the LS-powered build was a new adventure for them. Yet it is one they embraced.
"For as much as it was a fun project together, there was a lot that we learned on this car," Andy Traeger said. "Doing an LS swap for me was a very intimidating feat. I mean we're taking something that was made in 2004, even though that's kind of old technology now, but we're shoving it in something that was built in 1970. But the cool thing is, there are kits out there to help you with this."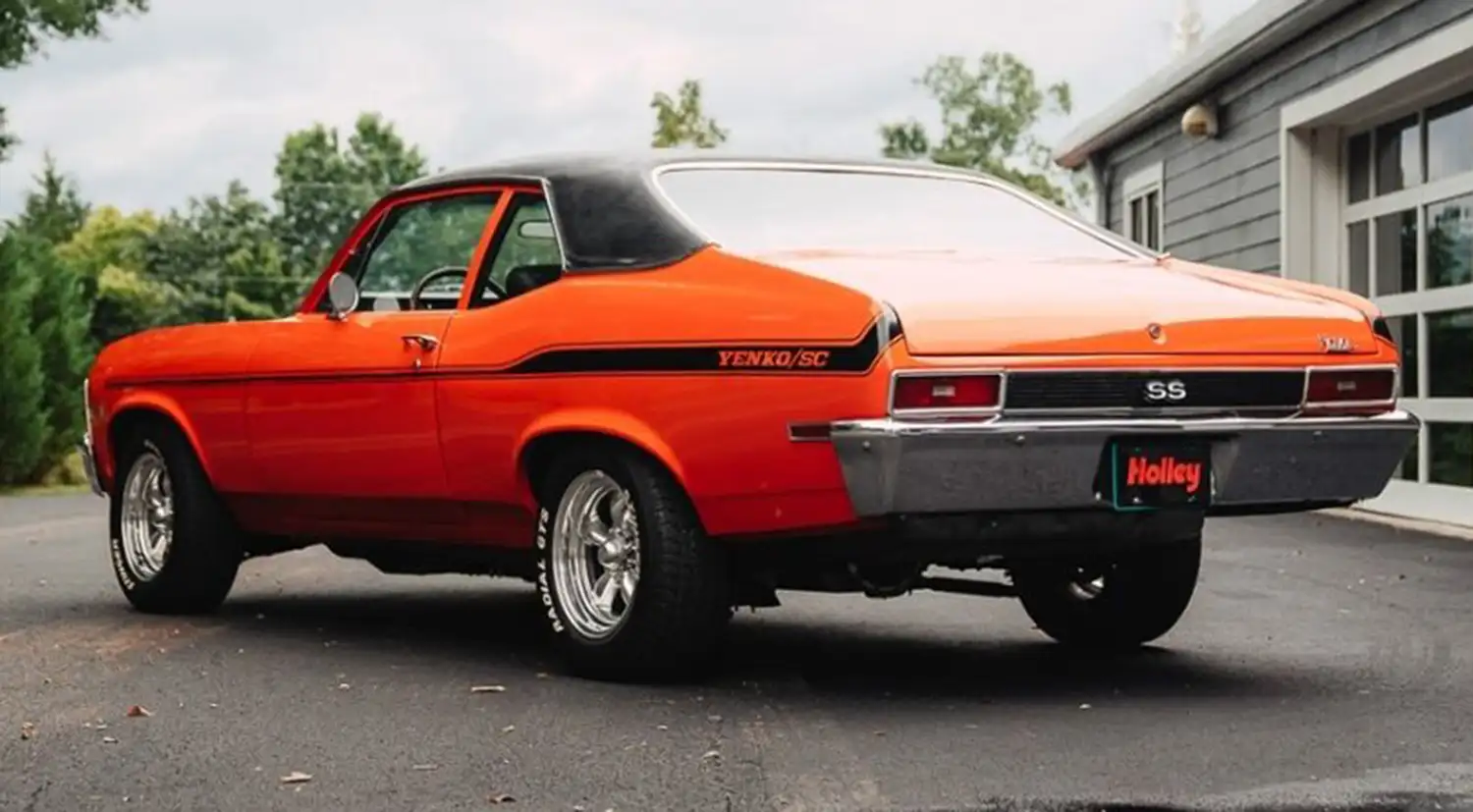 The Traegers' love for GM vehicles of all eras goes back almost a century. Dan's father bought a new Chevy in 1928 which he kept until 1949. He eventually purchased a 1956 Chevy and Dan remembers going to church in the car. Later his father had a 1963 Chevy Biscayne, and when the head gasket went out, he told his high-school-aged son that he could have the car if he could make it run.
After graduating from college, Dan Traeger went to work at a local Chevy store as a mechanic, then relocated to Barker Motor Company as a mechanic shortly after. He had no initial intentions of buying the company. Yet he eventually did, and over the years he passed down his business acumen and love for the brand to his son, Andy, and daughter, Danielle.
Among Dan and Andy Traeger's other projects are a Hugger Orange 1971 K10 pickup and a 1966 GMC truck, along with a 1978 Corvette 25th anniversary model Andy has owned since he was a teenager.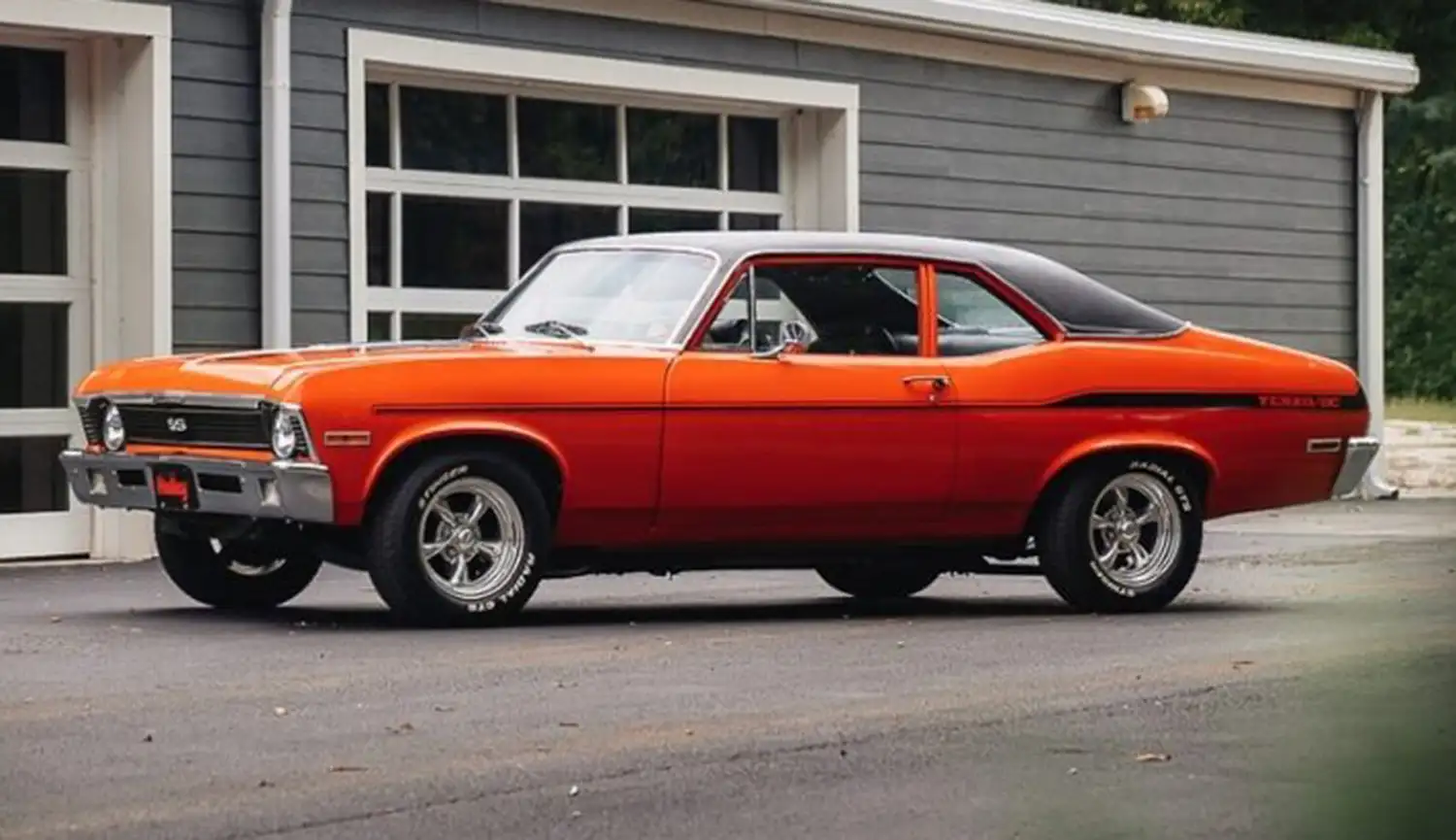 Originally, Dan Trager brought home the Corvette with the intent for his son to flip it and provide him with some extra money. Instead, Andy fell in love with the car and drove it through high school. Despite Dan's desire to sell it as problems mounted, Andy kept the car through college and he and his father eventually reframed the car. Today, it features a Chevrolet Performance 350/290 crate engine* and may be LS-swapped in the future.
For now though, the two are focused on the head-turning 1970 Nova, which features a three-inch exhaust along with electric exhaust cutouts. As a result, the cool look and killer sound each serve to alert passersby of the vehicle's presence.
It's been a labor of love, but one of which the Tragers are extremely proud.
"The goal at the end of the day, at least for me, was to say we built it," Andy Traeger said. "And when you're looking at that car, we built it."
Keep watching The BLOCK for Chevrolet Performance builds from events across the country.
*Because of its effect on a vehicle's emissions performance, this engine is intended exclusively for use in competition vehicles. This engine is designed and intended for use in vehicles operated exclusively for competition: in racing or organized competition on courses separate from public streets or highways. Installation or use of this engine on a vehicle operated on public streets or highways is likely to violate U.S., Canadian, and state and provincial laws and regulations related to motor vehicle emissions.