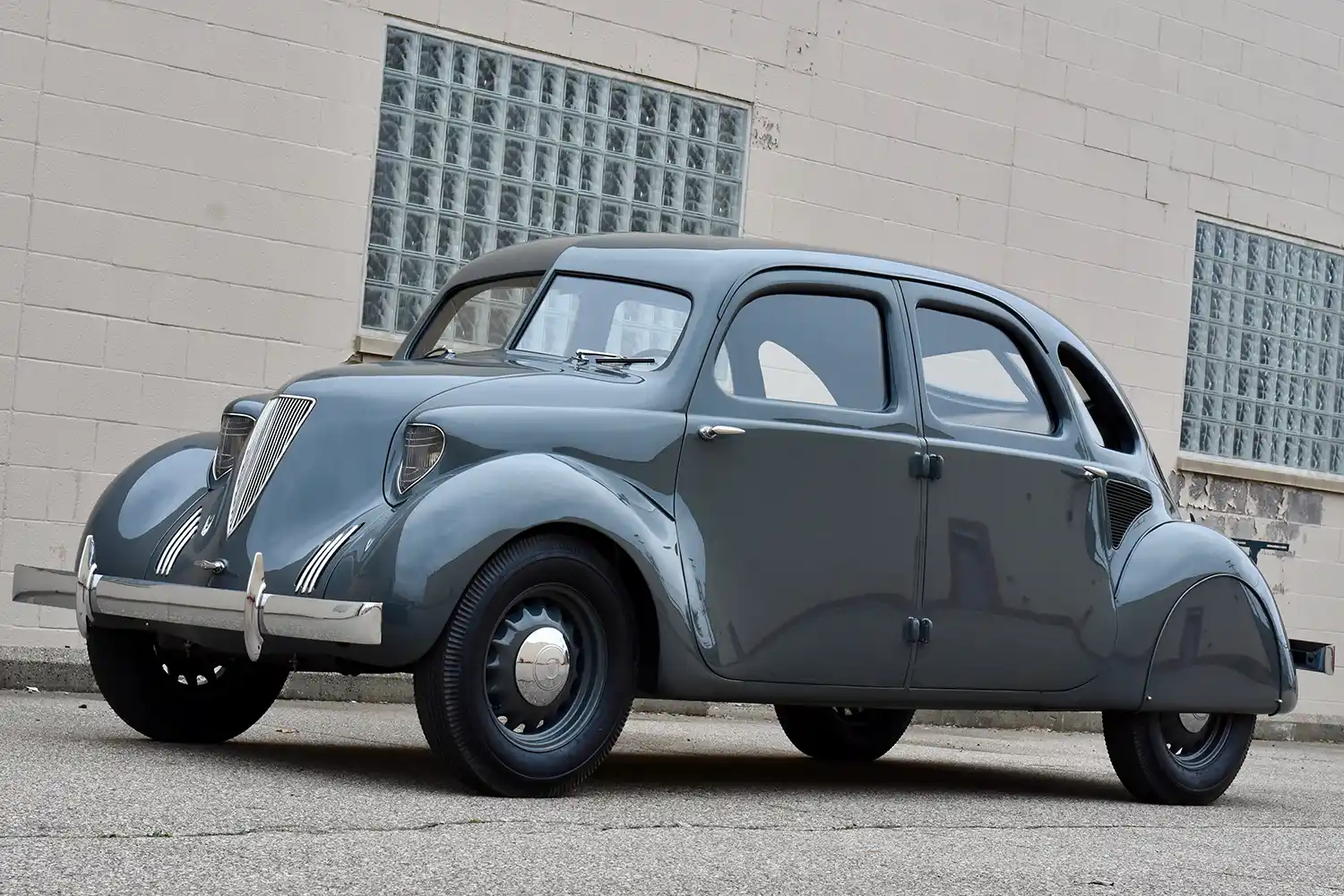 The Concours of Elegance is thrilled to announce that in 2023, guests will have the opportunity to sample a truly unique motorcar that's been shrouded in mystery and hidden from public view for decades: the experimental 1935 Hoffman X-8. Bestowed with honours from leading concours events throughout North America, this is the first time the Hoffman has been shown on this side of the Atlantic.
Visitors this year's glamourous event – held in the grounds of Hampton Court Palace from September 1st to 3rd – will have the chance to pore over this streamlined, startlingly innovative 1930s special; a fascinating piece of automotive history, with an equally enthralling backstory.
The Hoffman Backstory
The car was conceived in the early 1930s, when a group of American brothers, the Fishers, set their sights on talking over the famed Hudson Motor Company. In order to prove their credentials, the brothers decided they needed a state-of-the-art car to position them at the cutting edge of the automotive industry, and to show they meant business with the takeover bid.
In search of an inspired, ground-breaking concept, the Fishers turned to an eccentric but innovative designer, engineer and car builder: Roscoe C. "Rod" Hoffman. Hoffman was a fascinating character and true automotive visionary, working for manufacturers on numerous cutting-edge projects – such as a front wheel drive Packard in the 1930s – whilst also collecting patents for unusual drivetrain configurations, years before they were considered by mainstream automakers.
Asked to devise something totally new, Hoffman was set to task by the Fishers, and sworn to total secrecy about the project. The resulting car that will grace Hampton Court Palace this September is quite spectacular: an aerodynamic, steel bodied sedan with a tapered, teardrop like shape and fared in headlights; strikingly futuristic for a 1930s design.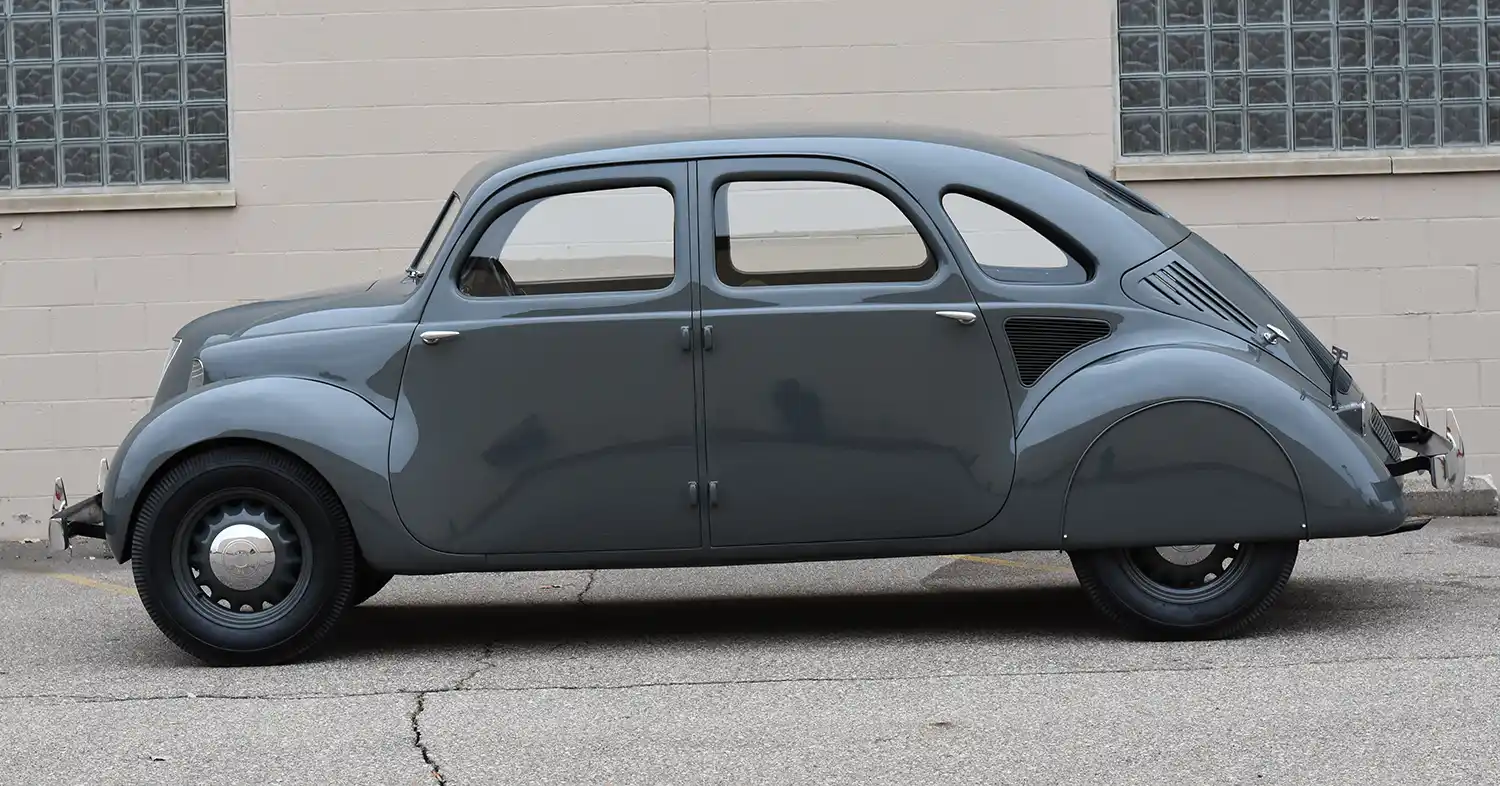 Development Shrouded in Mystery
Little is known for certain about how the car was built; Hoffman was true to his word, taking many of the of the car's secrets to his grave. The body is believed to have been created by Hoffman himself, as was the car's remarkable powerplant, a 60-degree water-cooled overhead-valve 'X-8' – right down to the casting of the block. It was the first and only such engine to be produced; quite a feat of engineering for such a small operation, let alone one working over eighty years ago. The unusual powerplant drove the rear wheels via a three-speed manual transmission, nestled between the rear bench seat and rear axle.
Whilst undoubtedly innovative, the X-8 was also produced to a startlingly high standard inside and out. Indeed one might be forgiven for thinking it was a series production car, rather than a secretive, one-off prototype. Now well into its 9th decade, the X-8 remains in excellent, enthrallingly original condition.
Years in Shadows and Emergence
The Fishers' takeover of Hudson never materialised, and their statement car remained in Hoffman's care, hidden entirely from view until it was gifted to designer Stevens in the 1960s. From then on, the X-8 resided in the Stevens family collection for decades, treasured even as many cars were sold off around it. The X-8 passed to its current owner in the early 2010s, who has thoroughly researched the car, unearthed much new information and exhibited the car to the public.
This fascinating, totally idiosyncratic motor car has since been shown to great acclaim at numerous high level concours events around the United States, including at Pebble Beach and the Concours d'Elegance of America. Hoffman's creation has also garnered the Historic Vehicle Association's prestigious 'National Automotive Heritage Award' – an honour bestowed upon only select cars deemed to be of particular significance to American automotive history.
James Brooks-Ward, Concours of Elegance CEO, said: "We are honoured to be welcoming the one-of-a-kind Hoffman to the Concours of Elegance in 2023 for its European debut. This September's event is set to be a truly special opportunity to savour this significant, innovative motorcar with a captivating story, right here in the UK. We cannot wait for you to join us for the latest incarnation of our ultimate automotive extravaganza, which will once again feature the rarest and most spectacular cars in the world."
The Hoffman will join the display of 70 rare and spectacular Concours Cars at September's glamourous event. Outside the main display of vehicles, the Concours of Elegance will assemble around 1,000 further cars in a series of special features and displays.
Away from the automotive displays, Concours of Elegance 2023 will again be an occasion of pure luxury, with champagne provided by Charles Heidsieck, picnics by Fortnum & Mason, and a collection of art, jewellery and fashion displays. Presenting Partner A. Lange & Söhne will once again showcase some of its most intricate timepieces.
Tickets to the Concours of Elegance 2023 are available now from just £35 for half-day entry, with full three-course hospitality packages from £320. Tickets can be bought from concoursofelegance.co.uk/tickets