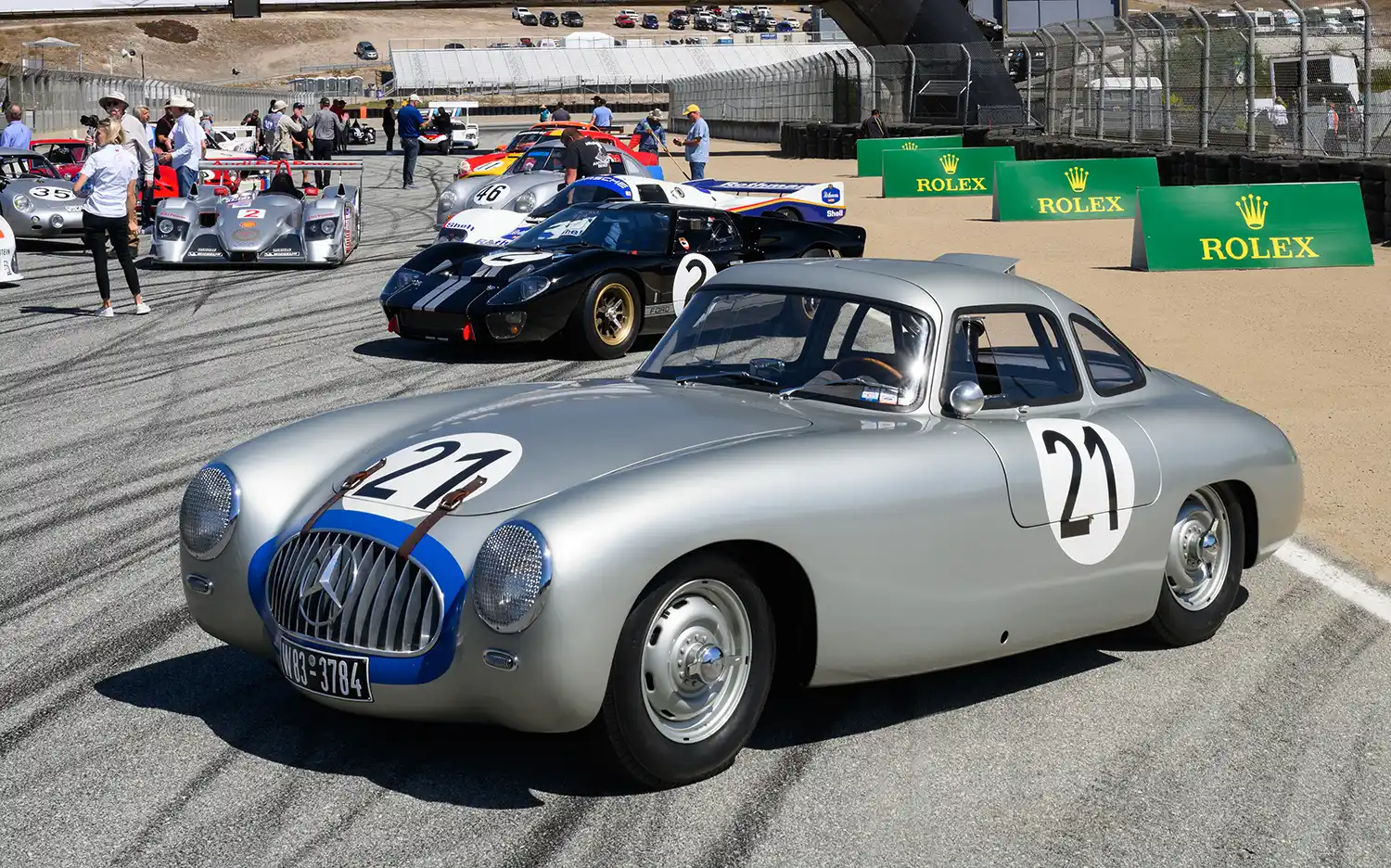 The Concours of Elegance, presented by A. Lange & Söhne, is delighted to announce that 2023's eagerly anticipated Le Mans Centenary celebration will feature two of the race's most significant cars: Bentley Speed Six 'Old Number One' – which triumphed in both 1929 and 1930, and the Mercedes-Benz 300SL W194, which took first place in 1952.
These highly significant models and many more will line up in the grounds of Hampton Court Palace from September 1-3rd, at what is set to be a jaw dropping display of La Sarthe legends – the perfect way to celebrate the centenary of the world's most famous race.
Bentley Speed Six 'Old Number One'
Bentley Speed Six 'Old Number One', which emerged victorious in 1929 and 1930 – the first car to win the race back-to-back – is widely considered to be among the most significant Le Mans winners of all. 'Old Number One' was one of five cars entered by Bentley in '29, despite the marque being in a precarious financial position, unsettled by the Great Depression. It was the lead car, based on the Speed Six sporting version of the venerable 6½ litre tourer; the other entrants were 4½ litre supercharged 'Blower' cars. 'Old Number One', with its tweaked large-capacity motor made 190bhp in race trim, enabling the substantial machine to hit 115mph flat out down the Mulsanne straight.
Piloted by Woolf Barnato – Bentley chairman and majority shareholder – and Tim Birkin at La Sarthe in 1929, 'Old Number One' vanquished American entrants from the likes of Stutz, Du Pont and Chrysler, as well as British entrants from Invicta, Lea-Francis and Lagonda. The Bentley took victory with relative ease after a dominant display; there was even time for the team to arrange its cars into a 1-2-3 formation for a dramatic finish.
The car returned the following year, modified to meet new regulations, and was again driven by Barnato, who was joined by Glen Kidston, runner up the year before. 1930 saw the arrival of stiff competition in the form of privateer entries from Alfa Romeo and Mercedes, both of whom were appearing at Le Mans for the very first time. The latter ran with financial support from the factory – the Mercedes board having been convinced to do so by Mercedes works team manager, Alfred Neubauer.
Despite the new influx of potent machinery, Bentley triumphed, staging a formation finish once more. Driver Barnato retired shortly afterwards, doing so with a sensational record of three Le Mans victories in three starts. It would be Bentley's last victory until they returned with the Speed 8 in 2003. September's event will give guests a special opportunity to pore over what is arguably the most significant car in the grand history of British motorsport.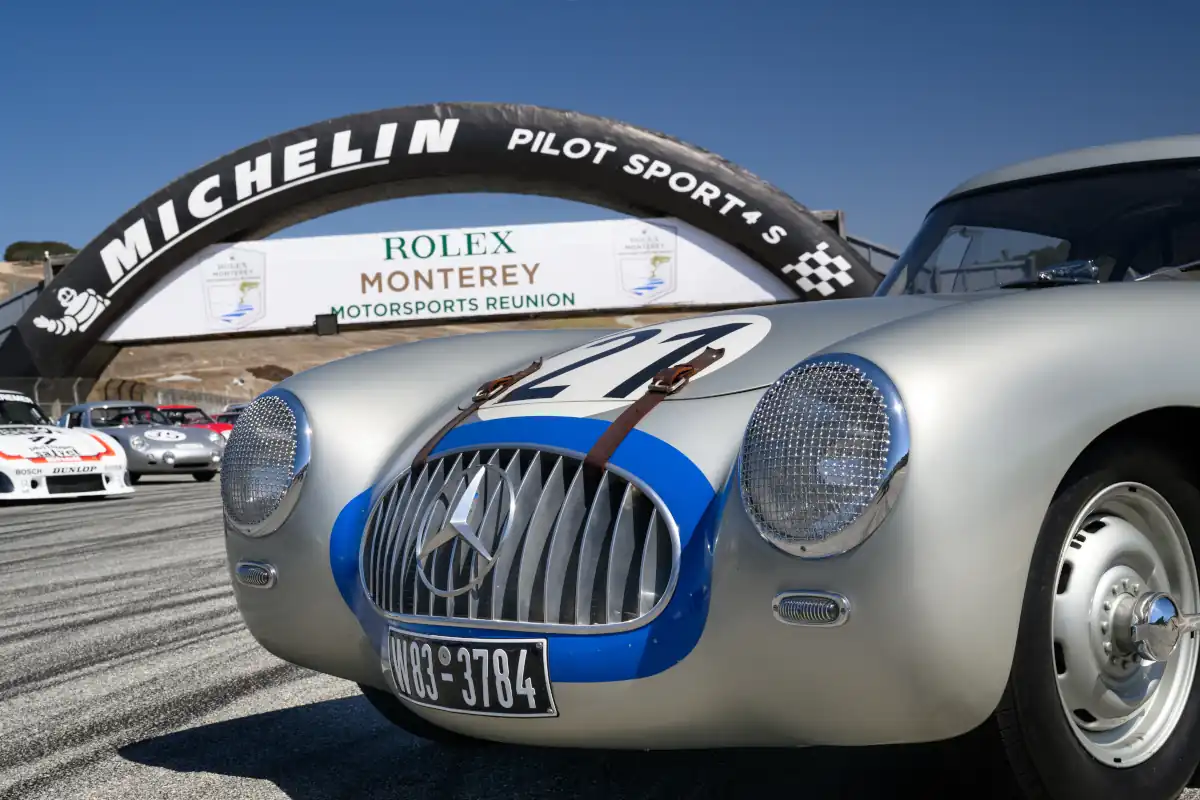 Mercedes-Benz 300SL W194
Also on show this September will be the legendary Mercedes-Benz 300SL W194 (above), which won Le Mans in 1952 – the first victory for a German manufacturer, and the first for a closed body car. A technological tour de force, the W194 signalled the future and would go on to spawn the 300SL 'Gullwing' road car. One of just 10 racing cars produced, this very machine was part of a one-two victory for the marque, with Hermann Lang and Fritz Reiss at the wheel.
Arriving not long after the Second World War, the W194 was cutting edge for its time, underpinned by a light and strong tubular steel space frame, cloaked in a slippery aluminium body. The high bulkheads on either side of the car made entry into the cockpit difficult with conventional doors; 'gullwing' doors with a wider aperture offered a neat, and visually striking solution. The 1130kg W194 featured a 3.0-litre straight six motor under the long aluminium bonnet, with a high-lift camshaft and triple solex downdraft carbs, enabling it to produce up to 175bhp, although for Le Mans it was detuned to 165bhp to ensure reliability over the gruelling race distance. Even so, with a low-weight and streamlined body, it was capable of reaching 160mph.
The W194 arrived at Le Mans during a highly-successful 1952 season, a year in which it also won at the Eifelrunn at the Nürburgring and in South America at the Carrera Panamericana. It was the first time that Mercedes had raced at Le Mans in 22 years, with the pre-war works team manager – the aforementioned Albert Neubauer – reprising his role. Drivers Lang and Reiss were competing in a talented field, up against the Ferrari of Alberto Ascari, the Jaguars of 1951 winner Stirling Moss, and Duncan Hamilton, as well as the Talbot of Pierre Levegh.
It was an eventful race, with 40 entrants retiring out of 57 starters, including the cars of Moss and Ascari. Levegh proved particularly challenging to overcome. The talented, 46-year-old Frenchman attempted to complete the entire race on his own, refusing to stop and hand over to his co-driver, despite the protestations of both his wife and the team owner; he felt only he could nurse the by now ailing car home. Eventually, the race took its toll on both driver and car, and Levegh retired with a broken connecting rod.
Competitors also had to battle thick fog which descended at dawn, forcing the 300SLs to drive with their gullwing doors aloft, drivers peering out around the windscreen. Nothing was to stop the brace of W194s though; the wonderfully engineered machines ran smoothly to the chequered flag where they took their one-two finish. A triumphant return to La Sarthe for Mercedes-Benz. September's show will offer motorsport fans a special chance to see the winning car, number 21, up close, to savour one of the most historic racing machines of all.
2023's Le Mans Centenary celebration will complement the display of 70 rare and spectacular Concours Cars at next September's glamourous event. Outside the main display of vehicles, the Concours of Elegance will assemble around 1,000 further cars in a series of special features and displays.
James Brooks-Ward, Concours of Elegance CEO, said: ""we are delighted to announce the first two stars of our Le Mans Centenary display, which is being presented in partnership with our friends at L'Automobile Club Ouest.
"The Bentley Speed Six 'Old Number One' and the Mercedes-Benz 300SL W194 are both legends of this great race and motorsport more generally, and it's a real honour to have them feature at our event. We at the Concours of Elegance pride ourselves on assembling the world's rarest, most significant cars; this duo certainly fit the bill."
"We're delighted to bring two landmark cars together to mark this landmark centenary; 2023's show is set to be a wonderful celebration of a magnificent race that has enthralled motorsport fans around the world, and our most astonishing automotive extravaganza yet." 
Further star cars from the Le Mans feature will be announced in the coming months, along with further exciting categories, as we build towards September's event.
Away from the automotive displays, Concours of Elegance 2023 will again be an occasion of pure luxury, with champagne provided by Charles Heidsieck, picnics by Fortnum & Mason, and a collection of art, jewellery and fashion displays. Presenting Partner A. Lange & Söhne will once again showcase some of its most intricate timepieces