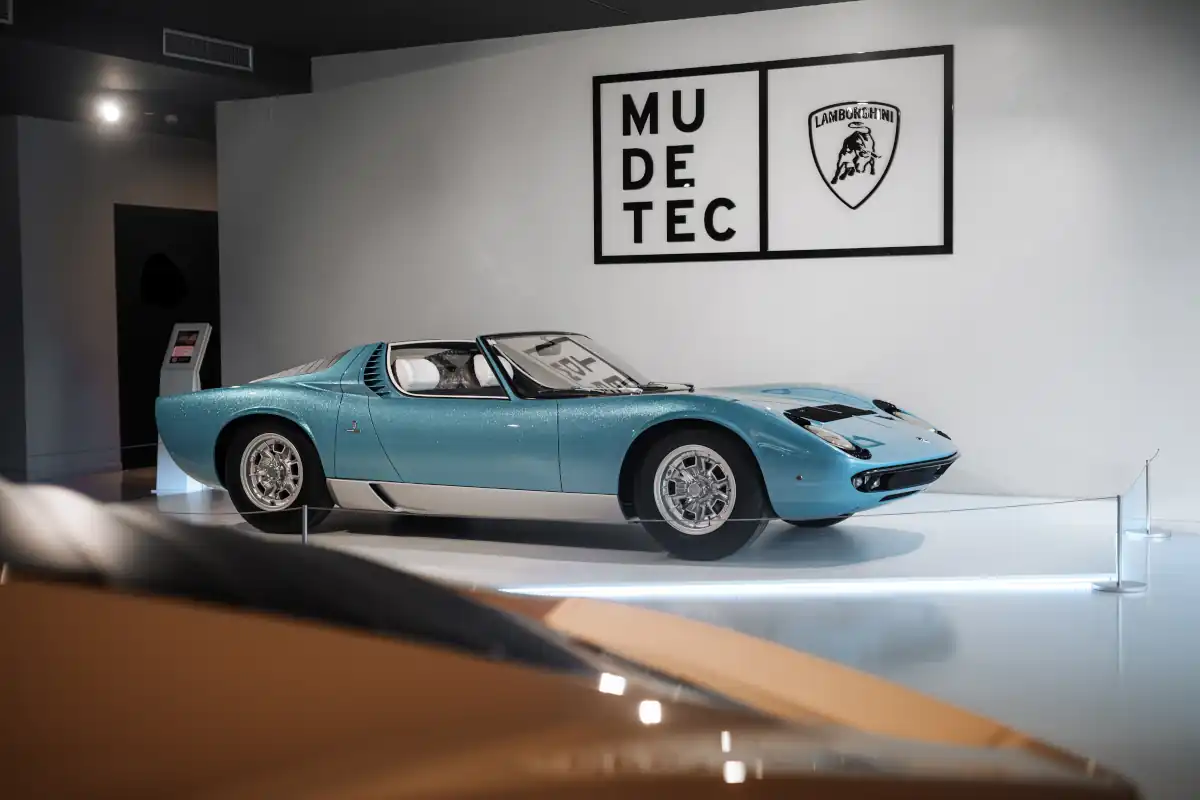 The one-of-a-kind 1968 Lamborghini Miura Roadster, which inspired the configuration of the just-released and last-ever Aventador Ultimae, is on display at the MUDETEC throughout the months of October and November. This is a unique and rare opportunity for museum visitors to get an up-close look at a priceless piece of automotive history.
Unveiled at the Carrozzeria Bertone stand at the 1968 Brussels Motor Show, the Miura Roadster remained a one-off and is considered one of the most beautiful show cars ever produced. The color combination itself was designed to dazzle: Lamè Sky Blu for the paintwork, with white leather interior and red carpeting.
The Miura Roadster has no side windows or roof closure system, which allowed the Bertone stylists to maintain a unique purity of line. Many aesthetic changes were made compared to the Miura sedan, with the rear part completely redesigned to leave the engine fully exposed, and the secondary control switches in the cabin interior, usually mounted on the ceiling, moved to a different position.
Following another appearance at the Geneva Motor Show in 1968, the Roadster was sent back to Sant'Agata Bolognese for some road tests conducted by legendary Lamborghini test driver Bob Wallace. Returning to Carrozzeria Bertone, it was sold to the International Lead and Zinc Research Association (ILZRO), who modified it extensively, repainted it a dark olive green color with a green interior, and renamed it ZN 75.
In 2007-2008 the Roadster underwent a complete restoration, bringing it back to its original configuration with the utmost attention paid to every detail. As soon as the work was completed, the Miura Roadster was presented at the Pebble Beach Concours d'Elegance in August 2008, where it took second place in the class dedicated to Lamborghini models.