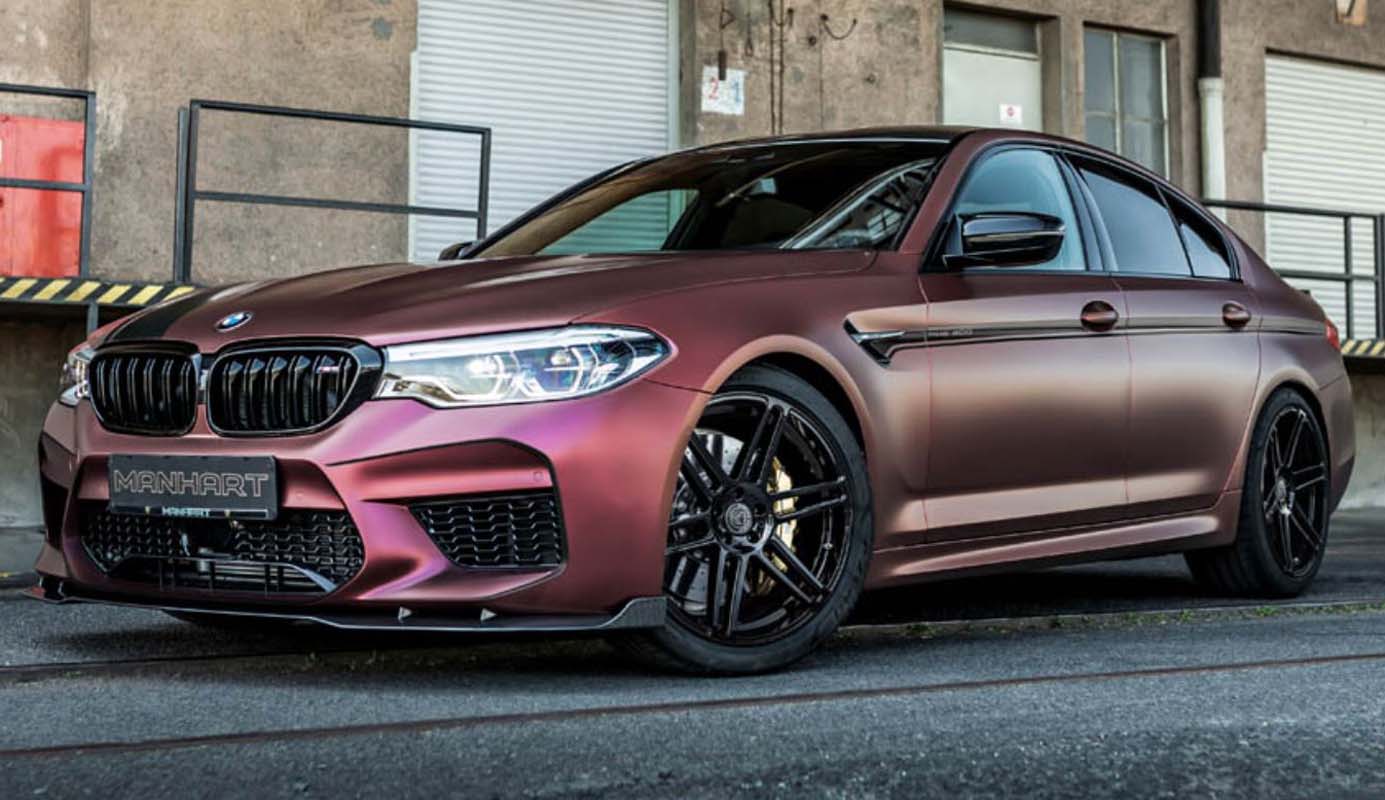 With the M5, BMW has undoubtedly built one of the fastest and most dynamic high-performance sedans of the luxury class in its range – and this applies not only to the lightweight special model – the M5 CS – presented at the beginning of 2021, but also to all variants of the current model generation F90: at least 600 hp ensure breathtaking Performance, acceleration to 100 km/h in less than 3.5 seconds and a top speed of up to 305 km/h.
Significant increases are of course still possible, as at MANHART Performance prove. They saw a whole lot of unused potential in the M5 and have made it our business to bring it to light in an expert manner: The result is the MH5 800, which has now been unveiled in a particularly sensational version.
The addition to the name 800 is no coincidence, but, as usual at MANHART, the name gives a clear indication of the performance: The 4.4-liter twin-turbo V8 (S63) performance level was increased to a whopping 815 hp, the torque increased from a maximum of 750 Nm from factory now being up to 1,050 Nm.
This was achieved with the help of a MANHART turbo performance kit, supplemented by an associated MANHART intercooler and a MANHART carbon intake. There is also a MANHART ECU remapping. This is rounded off by a complete MANHART exhaust system.
The setup starts at the outlet of the Turbos and consists of "Race" downpipes without catalytic converters, stainless steel OPF-delete replacement pipes, a stainless steel rear silencer with valve control and four optional carbon-coated or ceramic-coated tail pipes.
The downpipes and the OPF replacement pipe, like the MANHART-OPF/GPF-deleter, do not have TÜV approval and are therefore only intended for export. In addition, the M5's 8-speed automatic transmission received transmission upgrade.
In terms of appearance, Manhart also implemented a number of customizations: A set of H&R lowering springs not only lowered the body, but also optimized driving dynamics. In addition, the MH5 800 stands on a set of the well-known and proven MANHART Concave One light alloy wheels in matt black and size 9×21 front and 10.5×21 inches at the rear.
The associated tires measure 265/30ZR21 and 305/25ZR21. The components of the carbon body kit offer additional accents to the package – a MANHART front spoiler, a MANHART diffuser and a MANHART rear spoiler lip. While the our vehicles are usually characterized by a decorative sticker in gold or silver, the MH5 800 appears extraordinarily extravagant in this case: It has been given an effect film in matt red metallic including a MANHART decorative set in black.
Last but not least, the interior was refined with a sky roof headliner composed of numerous small LEDs installed into the roof and a carbon upgrade in the form of decorative elements and shift paddles on the steering wheel.