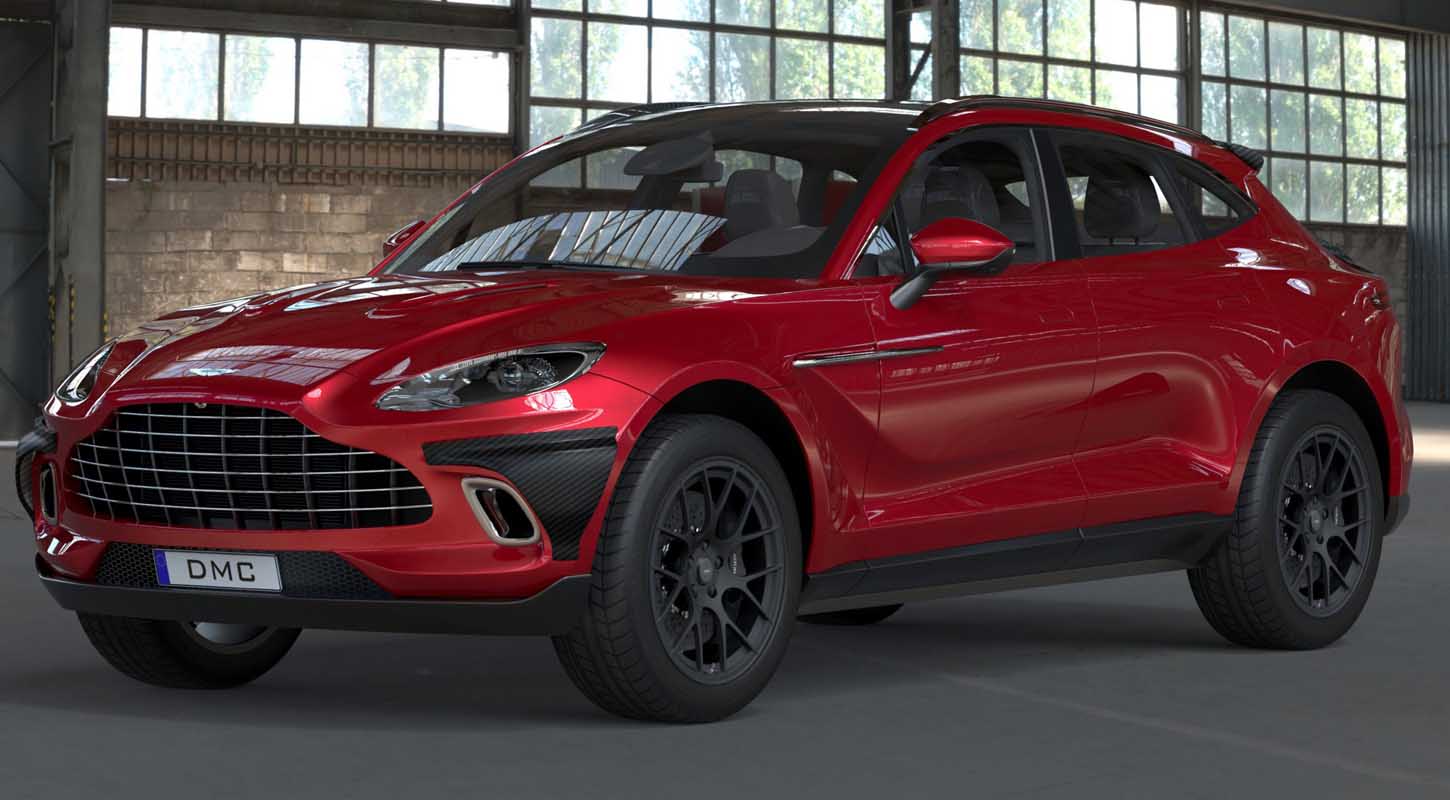 The DBX is the first luxury SUV from Aston Martin that also comes with 5 seats, hence creating a new category for the British Bespoke Car Maker. Nevertheless, it has all the Gene Markers that we got used to from Aston Martin's DNA, including but not limited to Beauty, Luxury and Sporty. What did DMC do to improve upon it? Introducing the DMC Aston Martin 2022 DBX "Fuerte":
Even though DMC is not particularly known for Aston Builts, they did modify cars from the Gaydon UK based brand in the the past. Loyal DMC fans may remember their DBS "Fakhuna", so it was just a matter of time until the German Tuner decided to modify the DBX as well. DMC came up with a complete package, something the company is world reknowned for: Performance, Carbon Aero, Wheels and Exhaust. While DMC had started out in the carbon composite field, performance plays an ever growing role for the Luxury brand brand , showing that clients around the earth seek more that just style. WIth dealers in mostly every country, DMC has been able to build the new DBX not only involving their German team, but also their dealers, to cater for every individual taste.
Let's start with a look at the revised Aerodynamic package, which we know, DMC is doing completely in-house since 2009: The team opted against a wide-body look, and decided to keep the overall appearance of the British DBX. Improved Downforce and Wind-Flow was achieved by developing elegant add-on parts that don't come "over-the-top". On the front, DMC was able to reduce turbulences with it's Front Bumper tunnels. Made of purely dry prepeg Carbon Fiber, they not only function but add an aggressive look as well. Clients can opt for a glossy or matte finish and are able to receive a brand new style. A new option is to paint these parts as well, giving them more of an integrated look. If you feel that these tunnels look too seperate, think about having them painted in the same color as the Aston Martin's body.
Putting our attention to the rear,  DMC's engineers developed a beautiful trunk wing, and a stunning roof spoiler. Both parts work well together and improce the downforce on the DBX's rear axle. Made from the same ultra-lightweight carbon fiber (Dry Prepeg Carbon), the also look amazing ,and come with a center V weave, that we have ever seen only on Hypercars such as Pagani and Koenigsegg. Finally, the tuners from Duesseldorf Germany also came up with a new rear diffuser. The fins that add to the stock DBX rear, have got a strong appearance and help channeling the DBX's wind under the car, if you choose to have it race on the highway. While this may first seem off the chart, we realised that the DBX is not really made as a full-fledged SUV for All-Terrain usage – we might rather see it infront of London's luxury hotels or – on highways around the world.
DMC's long-year partner PUR WHEELS also supported this project with a new set of DBX rims. It is the same design we saw on last week's Roma, will be used on all of DMC's 2022 product launches. The wheels come in Dimensions of 10×24″ (Front) and 12.5×24″ (Rear) with suitable tyres specs of 295/30R24 and 355/25R24. These improve the sporty feeling, and also give an overall fuller appearance for the wheel arches. While the finish on the wheels shown above is matte black, there is no limit when it comes to client's choices.
Let's have a look at the strongest part of DMC's DBX package. The best part of Aston Martin's SUV is its V9 Twin Turbo Engine. DMC came up owith a brand new Engine Management (ECU), bigger Turbo-Loaders, a Sport-Filter and a new ultra-lightweight exhaust system. DMC works with PP-Performance for ECU Tuning, has an in-house CNC facility (ZESAD GmbH) in Germany for the Turbo Loaders, and uses iPE Technology from Taiwan for its exhaust replacements. After the combined efforts of these brands, DMC was able to  Dank all dieser Veränderung stemmt der DBX nach seinem Umbau im Hause DMC die überaus imposanten Leistungsdaten von 808 PS (up from 505 PS), as well as an improved 1.000 Nm torque (Up from 700 Nm). This makes us remember the diffuser fins that originally seems out of place on the DBX, but now make even more so sense on such beast. In summary, the DBC now achieves a new Vmax of 328 km/h while reaching 0 to 60 mpH in only 3,8s.
The package is finalised with an exclusive interior refinement. Using italian fine leathers, wood trims and carbon fiber, DMC creates each client's individual dream cabin. Literally, the sky is the limit when it comes to choices or colors and materials, everything is possible, and each part that can be removed, will be removed to undergo a revision. Plenty of buttons and trims are available as a small package, a redesigned steering wheel adds on to complete a medium package, or the whole interior can be redone for the VIP package. Small and Medium Projects can be done remotely, but the car needs to be shipped to Germany if a whole interior make-over is requested.
Source: DMC.ag