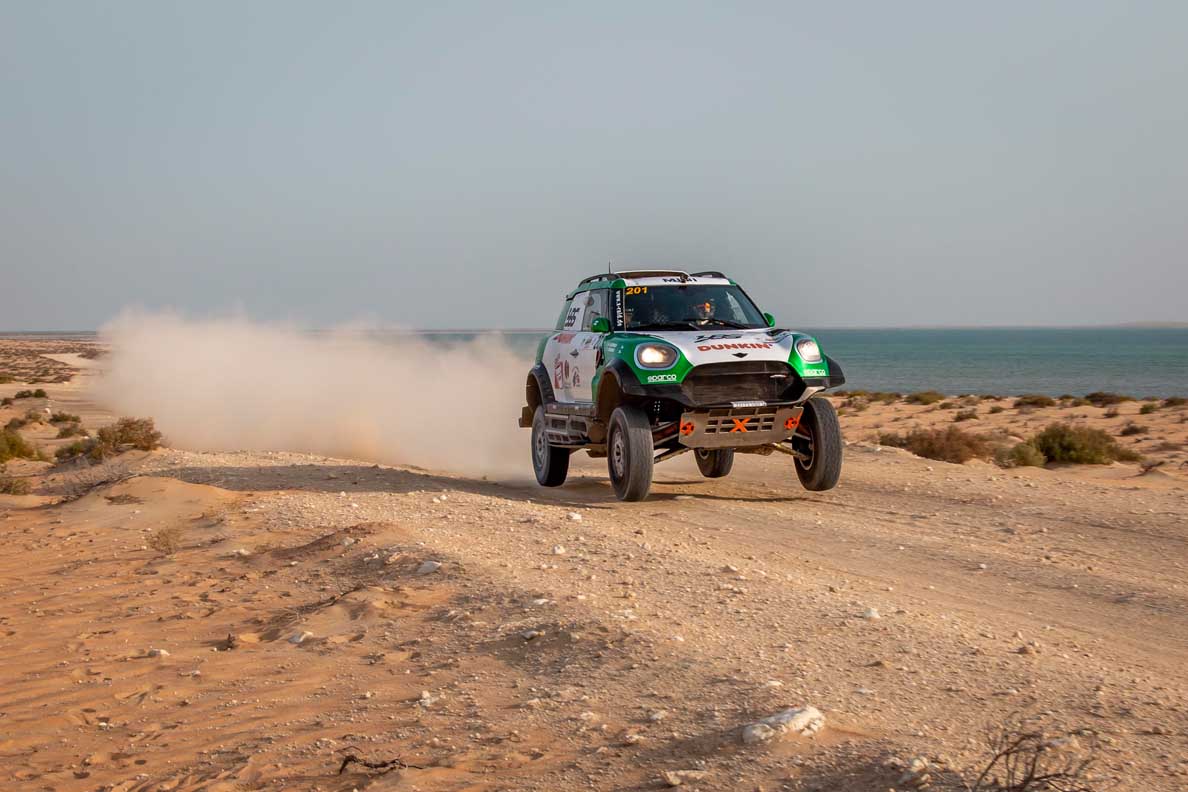 Yasir Seaidan won the remaining two desert selective sections of a weather-modified Sharqiyah International Baja Toyota to secure a start-to-finish victory by the margin of 13min 38sec on Saturday. It was the Saudi's first ever FIA event victory.
With competitors tackling two timed stages on the final day – following the cancellation of Friday's itinerary because of sand storm conditions – Seaidan and Russian co-driver Alexey Kuzmich were never troubled in their Mini John Cooper Works Rally once early morning pace-setter and pre-event favourite Yazeed Al-Rajhi crashed his Toyota Hilux after 82km of the first stage. He and co-driver Michael Orr were taken to hospital for medical examinations with both complaining of back pain.
"Finally we finish this rally," said Seaidan. "It was not an easy rally. We had a lot of situations. The first leg was cancelled so we had to do all the rally in one day. It was difficult but we made a strategy to finish without any problems because we have another round in two weeks. I am so happy to win. The car was okay and we finished without any problems."
To ensure that at least 350 competitive kilometres were available to guarantee the event qualified for full FIA championship points – as per the sporting regulations for FIA Bajas – officials decided to replace Saturday's scheduled stage with a run through Friday's cancelled section of 217.50km and then repeat the first 138.50km to the second passage control point after the bikes and national cars had completed their first and only pass.
After poor visibility forced the cancellation of Friday's stage, the weather was ideal and visibility was normal on Saturday morning. Helicopters were permitted to fly as usual to fulful all safety requirements with route amendments and an accurate and precise road book fully approved by both FIA and FIM representatives present before the restart.
Saleh Al-Saif duly led the 11 FIA cars into an early morning start, with Seaidan starting in 10th on the road and Al-Rajhi slotting into eighth. Al-Saif duly dominated the FIA T4 category in his Can-Am Maverick X3 and reached the finish in third overall with Czech veteran Miroslav Zapletal overhauling the Saudi to take second place in his Ford F-150.
A navigational error cost Erik Van Loon valuable time and the Dutchman finished fourth in the second of the Belgian-built Toyota Hiluxes. Saeed Al-Mouri stopped at the scene of Al-Rajhi's accident to lend assistance but Baja officials later reimbursed his lost time. A good run through the closing kilometres enabled the Saudi driver to climb to fifth place and second in the FIA T4 section. But he was later awarded a five-minute time penalty and slipped to sixth.
Kuwait's Meshari Al-Thefiri and Frenchman Claude Fournier were fifth and seventh and sealed second and fourth in the FIA T4 section, while Saudi female driver Dania Akeel completed her first event in eighth overall with French navigator Laurent Lichleuchter in the SHERO Rally Team by Duust Can-Am. She won the FIA T3 category.
UAE-based Thomas Bell was running strongly for much of the morning's stage in his Can-Am but was sidelined close to the finish after getting stuck in a muddy section of the route near the coast. Khaled Al-Feraihi also retired after crashing his Nissan Navara.
Saleh Al-Abdelali led the National Rally category from the start of the morning's stage in his Hummer H3 and a time of 3hr 12min 16sec gave the Saudi a comfortable 41min 55sec victory over Khalaf Saleh Al-Shammeri's Nissan Patrol. Female driver Mashael Al-Obaidan teamed up with Emirati Ali Mirza to seal the laurels in the National T3 section in her fifth-placed Can-Am Maverick.
Kiwi Philip Wilson stormed to victory in the motorcycle category by just over an hour on his KTM 450 Rally from Abdulhalem Al-Mogheera. Ahmed Sulaiman Al-Nasser rounded off the podium places.
Top seed Mishaal Al-Ghuneim was one of several riders to suffer a fall and was taken to hospital with leg fractures. Both Badr Abalkiel and Qatar's Jamal Al-Mansouri also sustained shoulder injuries after tumbles and fellow Qatari Mohammed Al-Kaabi fell and suffered a minor head injury.
Tragedy marred the quad race with the awful news that Riyadh Al-Shammeri passed away after an accident early in the stage. Abdulmajeed Al-Khulaifi also injured his hand and the win eventually fell to Hani Al-Noumesi (Yamaha Raptor 700 R) in very sombre circumstances.
The Sharqiyah International Baja Toyota ran under the supervision of H.R.H. Prince Khalid bin Sultan Al-Abdullah Al-Faisal, SAMF President and Chairman of the Organising Committee, and has attracted support from partner Abdul Latif Jameel Toyota and diamond sponsors MBC Group and Al-Arabiya outdoor advertising. Toyota is the official car for the event.
Modon, the Saudi Authority for Industrial Cities and Technology Zones, also provided logistical support.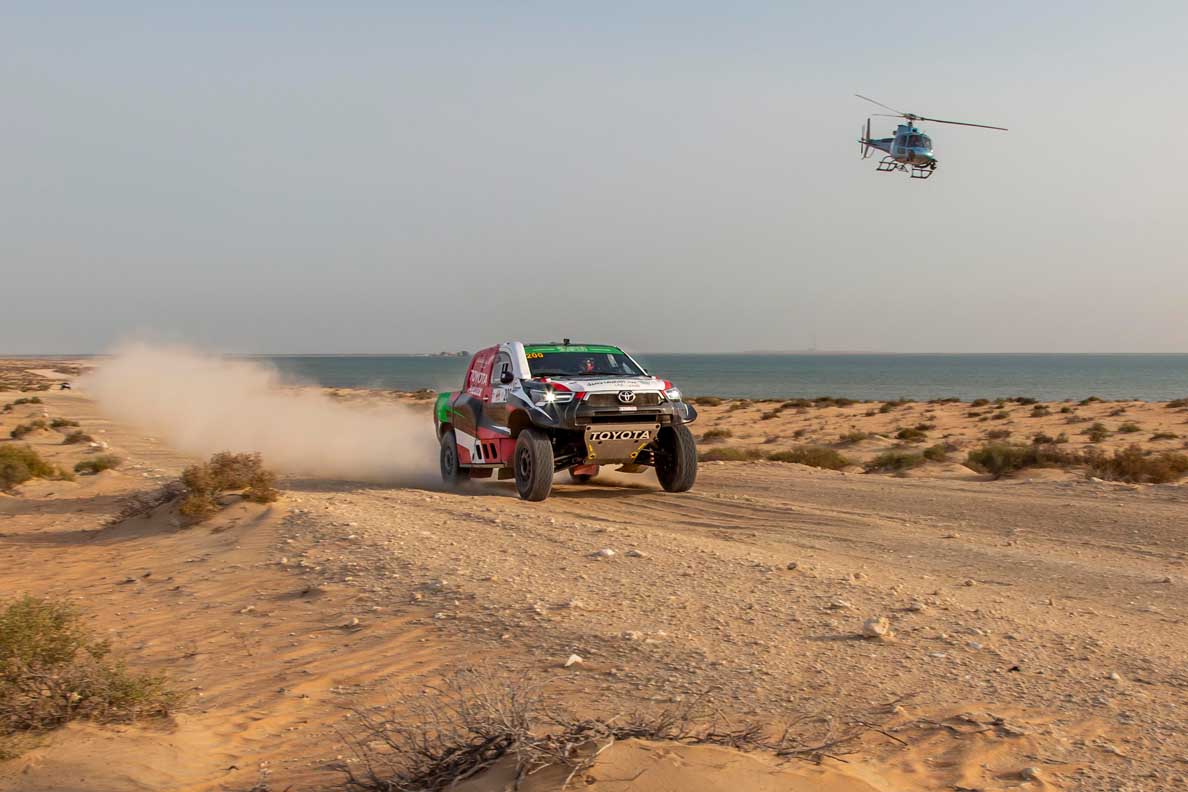 Sharqiyah International Baja Toyota – results:
FIA
Yasir Seaidan (SAU)/Alexey Kuzmich (RAF) Mini John Cooper World Rally 4hr 05min 27sec
Miroslav Zapletal (CZE)/Marek Sykora (SVK) Ford F-150 Evo 4hr 19min 05sec
Saleh Al-Saif (SAU)/Oriol Vidal (ESP) Can-Am Maverick (T4) 4hr 27min 37sec
Erik van Loon (NLD)/Sébastien Delaunay (FRA) Toyota Hilux Overdrive 4hr 40min 37sec
Meshari Al-Thefiri (KWT)/Nasser Al-Kuwari (QAT) Can-Am Maverick X3 (T4) 4hr 59min 58sec
Saeed Al-Mouri (SAU)/Sergio Lafuente (URU) Can-Am Maverick X3 (T4) 5hr 02min 37sec
Claude Fournier (FRA)/Szymon Gospodarczyk (POL) Can-Am Maverick X3 (T4) 5hr 06min 47sec
Dania Akeel (SAU)/Laurent Lichtleuchter (FRA) Can-Am Maverick X3 (T3) 6hr 49min 44sec
National Rally
Saleh Al-Abdulali (SAU)/Mohammed Al-Neim (SAU) Hummer H3 2hr 37min 39sec
Khalaf Saleh Al-Shammeri (SAU)/Khalid Al-Bakr (SAU) Nissan Patrol 3hr 19min 44sec
Majed Al-Shammeri (SAU)/Abdulaziz Al-Rimali (SAU) Nissan Patrol 3hr 22min 39sec
Jaffar Al-Qahtani (SAU)/Omran Al-Omran (SAU) Nissan 3hr 36min 39sec
Mashael Al-Obaidan (SAU)/Ali Mirza (ARE) Can-Am Maverick 3hr 57min 46sec
Ahmed Al-Malki (SAU)/Saeed Al-Shamrani (SAU) Nissan Pick-Up 4hr 18min 56sec, etc
Bikes
Philip Wilson (NZL) KTM 450 Rally 3hr 56min 39sec
Abdulhalem Al-Mogeera (SAU) KTM EXC 450 AWAITED 4hr 55min 30sec
Ahmed Sulaiman Al-Nasser (SAU) KTM 450 4hr 57min 31sec
Mohammed Al-Khater (SAU) KTM EXC 500 5hr 17min 40sec
Ahmed Al-Jaber (SAU) KTM 500 EXC-F 5hr 19min 50sec
Sheikh Mohammed Al-Thani (QAT) Honda CRF 450 R 6hr 11min 22sec, etc
Quads
Hani Al-Noumesi (SAU) Yamaha Raptor 700 R 7hr 32min 20sec
Abdulsalem Al-Hamam (SAU) Yamaha Raptor 700 R 7hr 32min 24sec
3. Ahmed Al-Harbi (SAU) Yamaha Raptor 700 R